In January 2017 Fiona, who works in our shops and designs accessories for us, came up with the Skye Wrap. A simple and versatile over – garment, Fiona's thoughts were to showcase the wonderful fabrics that we stock in the shops – whilst coming up with something simple to make.
Easy to make, easy to wear – that has to be the perfect dressmaking mantra!
We have been taking the wrap pattern and relevant fabrics along to many of shows this year, and it has been a hit. Great for creating activity on the stand with lots of customers trying it on  – and looking fantastic in it. We have sold many patterns, many wools and many beautiful feature buttons.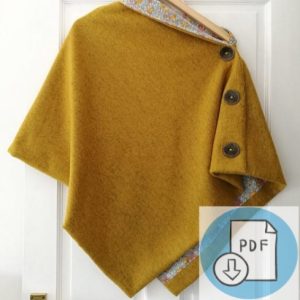 In March we had a spike one evening, with the orders pinging through after a days trading at Sewing For Pleasure at the NEC. Someone had bought the pattern and made the wrap as soon as she was home, posted it in a sewing group on Facebook and the word started to spread.
This September the Skye wrap has gone virtually viral in the sewing groups, alongside Aldi's sewing range, Lidl Overlockers and Soup Bowl Holders – google it – it's a thing! We have been struggling to keep up with orders and it has knocked everything else back a little.
There has been a huge amount of debate as to whether the instructions  – (method and dimensions – no large rectangle of paper as a pattern) are worth it or whether you should be able to do it yourself. This resulted in mocking of the people who bought the pattern and was a really shameful thing to discover in a sewing group that is normally incredibly informative and supportive.
However, I would say that 99% of people who have bought from us have been pleased of a little hand holding – and the results have been fantastic.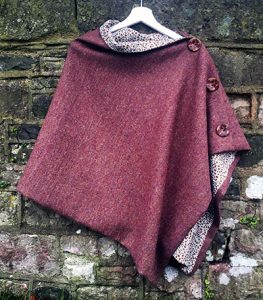 We have of course been asked for different sizes – and I will, at some point look at giving out dimensions for children. But for the moment below find a kind of pre-step and fabric requirements if you are plus size.
The original pattern looks good up to a 14/16, but then we've had a lot of people at the shows try it on who are bigger and it still looks nice.
On wider shoulders the wrap looks lovely but we start to see the buttons side becoming shorter than the other side because of the larger shoulder width.
Depending on your size you could look at changing the method and the dimensions – but it will take more fabric.
So I would suggest if you buy a 2 mtr length  of 150cm wide fabric that you would cut the width down to 106cm wide (so you don't need to buy 150cm wide in the first place) then half it's  length into 2 x 1 mtr pieces. So you have 2 pieces which are 100cm long by 106cm wide.
The lining should be cut in the same way to end up with two pieces which are 100cm long by 101cm wide.
To construct – With right sides together match and pin two short edges of the wool outer. Sew using a 1cm seam allowance. Press seam allowances open.
Repeat same process with lining.
Continue with original instructions treating the sewn together pieces as one piece. When you come to finishing maybe add a 4th button to the shoulder to allow for the extra fabric length.
This basically is giving you an extra 40cm (16 in) around the body and some extra length to the wrap.
If you are unsure I would recommend making a toile using some old sheeting or fabric to make sure the dimensions  are correct.
If you want to have a go head here to buy our Skye Wrap 
We offer Skye Wrap Kits, Or the Pattern to download or to receive by post to go with our curated range of fabrice